Rails to the Darkside
Oct
14
Rails to the Darkside
Friday, October 14
7:00 pm - 9:30 pm
Connecticut Trolley Museum

Event Details
ADVANCE TICKET PURCHASE IS REQUIRED FOR THIS EVENT
As the fall chill fills the air, on the darkest of nights, mournful cries of the abandoned dead are heard on the tracks at the Connecticut Trolley Museum. Listen to the tale of yesteryear, as you learn of a hastily moved cemetery whose bodies were left behind, their angry souls seeking their revenge. Come for a scare if you dare... the next trolley ride is an express to the Darkside!
During this haunted experience, ride vintage trolleys into the dark woods for a fear that you will never forget, visit the vortex tunnel if you dare and end your experience in the Visitor Center if you can handle the unforseen horror of death.
New for 2023, the Trolley Museum has partnered with Curioporium LLC. Curioporium seeks to control the ethereal energy and use it to open the gates for the foolhardy or the fearless to venture into the realm of the forsaken, the fallen, and the cursed. Beware, this spectral force is unpredictable and volatile. Brace yourself for unimaginable horror, for who can fathom the blood-curdling terror about to seep into our world?
This haunted event is rated PG-13 and may be too intense for the squamish. It is not recommended for young children.
The Trolley Museum reserves the right to remove guests from the event if they demonstrate poor behavior or act inebriated. Alcohol is not permitted at the event.
Attention: This event utilizes strobe lights and fog machines. Individuals who may be affected by the fog or strobe lights should not attend.
Go for a ride to the Darkside - Click here for a teaser!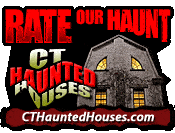 ---
The Connectiut Trolley Museum is open and trolley rides operate rain or shine.
---
Ticket Prices
Advanced ticket purchase to Rails to the Darkside is required. Parking at the Trolley Museum is free.
---
Tickets
Tickets are non-refundable, non-transferable.
Please arrive 15 minutes prior to your selected departure time.
---
Time
Friday, October 14, 2022
7:00 pm - 9:30 pm
---
Future Event Times
Unfortunately there are no upcoming events scheduled.
---
Add this event to your calendar:
+ Google Calendar